Each year, Albuquerque, New Mexico hosts the largest hot air balloon festival in the world—the Albuquerque International Balloon Fiesta. The Fiesta lasts for 9 days in October, and features activities like hot air balloon rides, mass ascensions, balloon glows, local food and art, races, and more. With so much happening, you'll want to be sure you have a great place to take it all in so you don't miss anything. In this article, we'll share some of the best places to watch the Balloon Fiesta.
The Best Places To Watch the Albuquerque International Balloon Fiesta
At the Fiesta – It's no surprise that one of the best ways to watch the Balloon Fiesta is by attending it. By traveling to Albuquerque, you can witness the awe-inspiring event firsthand, and even get up into the air if you want! If you're interested in attending the Balloon Fiesta, tickets are now on sale, so get yours today!
VIP Experiences – There are also VIP viewing experiences that allow you to get a one-of-a-kind perspective of all the Fiesta has to offer. During the Balloon Fiesta, the Balloon Museum—located just next to Balloon Fiesta Park—offers VIP Viewing Packages for an unforgettable experience. These packages include catered meals, drinks, amazing views of the Fiesta, and more. Tickets are on sale now, so consider purchasing yours today!
Balloon Fiesta Live! – If you are unable to make it to Albuquerque for the Balloon Fiesta, don't worry! You can still catch all of the action by watching the Balloon Fiesta live stream: Balloon Fiesta Live! Over the course of the Fiesta, Balloon Fiesta Live! offers more than 40 hours of live, uninterrupted, commercial-free coverage of the ascensions, glows, shapes, and competitions.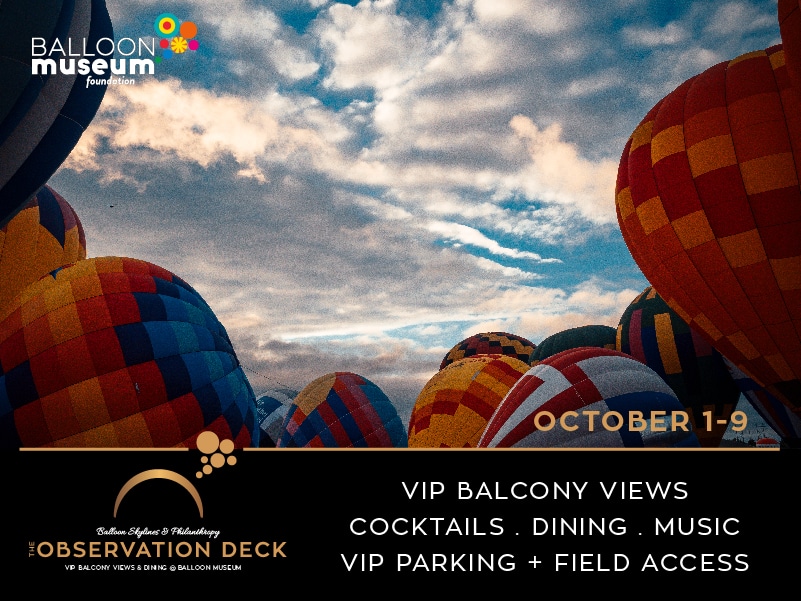 The Anderson-Abruzzo International Balloon Museum Foundation proudly raises awareness, involvement, and funds for the Balloon Museum. Our goal is to uplift the Museum through project collaboration, artifact donations, and shared information and resources. The Balloon Museum Foundation also holds special events during The Albuquerque International Balloon Fiesta each year, like the VIP Viewing Packages mentioned above. Find out more about the Fiesta and how you can support our efforts by becoming a member, donating, volunteering, or purchasing a wall tile today!