You've probably seen pictures online of a beautiful sky filled with hundreds of hot air balloons. While the combination of the balloons and the landscape is breathtaking in those images, you may have found yourself wondering what was going on. Well, those images are from various hot air balloon festivals all around the world. So, what exactly is a hot air balloon festival?
Hot air balloon festivals are events where tens to hundreds of balloon pilots and crews aim to launch and fly at coordinated times, where both aviators and spectators can enjoy. Generally, the festivals last for a few days to ten days. Cool, arid conditions are the best for ballooning, with many major hot air balloon festivals taking place in the western U.S.
Typically, events at hot air balloon festivals take place early in the morning and later in the evening. This also gives people the opportunity to explore the area and do some sightseeing during the day. Some of the normal events at hot air balloon festivals include:
Dawn Patrol

– Dawn Patrol is an event that occurs just before dawn where a group of specially trained pilots take off before anyone else in order to identify the air density and prevailing winds. Pilots radio back to the ground to share this about flying conditions with other pilots to ensure safety.
Mass Ascensions

– Mass ascensions occur in the morning when hundreds of hot air balloons all rise at the same time, making for a breathtaking way for visitors to start their day.
Balloon Glow

– Balloon Glow is an event that occurs in the evening where balloons are inflated, but tethered to the ground. This creates an amazing scene for the audience to walk around and admire. Some of the balloons even have cards on them listing stats like how old they are, how much they weigh, where they are from, etc.
Balloon Rides

– Feel the thrill of hot air ballooning by taking a ride in one. Many festivals offer balloon rides to get you up in the air and help you enjoy the view. Usually at a Festival, one would find a commercially licensed balloon company to fly with.
Vendors Selling Food, Drinks, and More

– Hot air balloon festivals often bring in local vendors to sell food, drinks, art, trinkets, and other goods. This is a great way to check out what the area has to offer while enjoying the festival.
Exhibits and Displays

– Many festivals set up exhibits and displays that often highlight different aspects of ballooning. These opportunities provide engaging and informative experiences to teach visitors more about ballooning and other topics.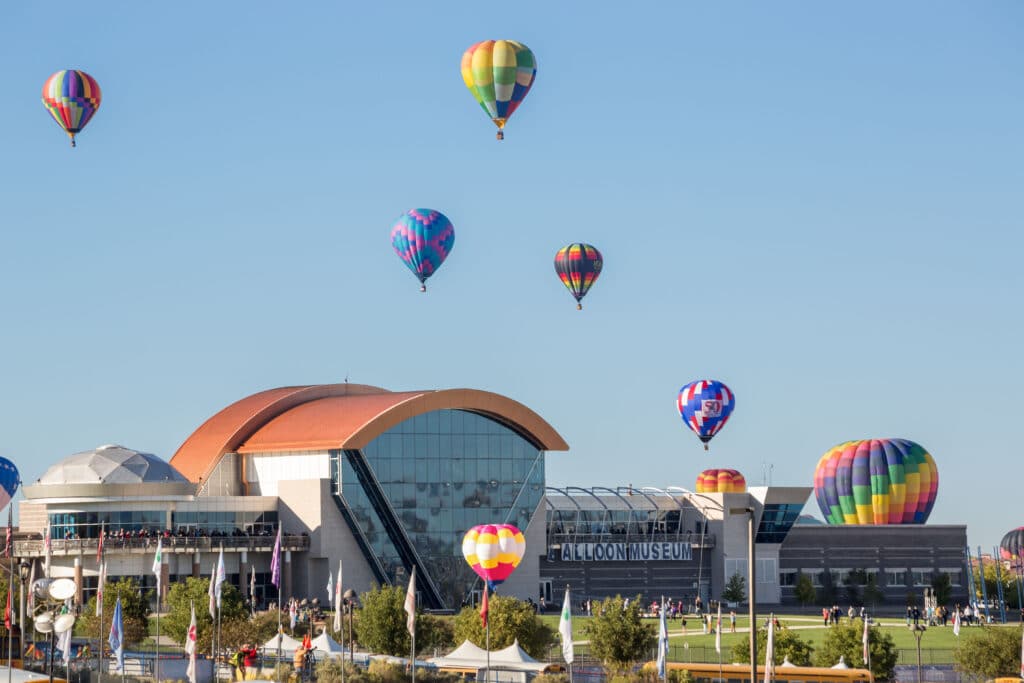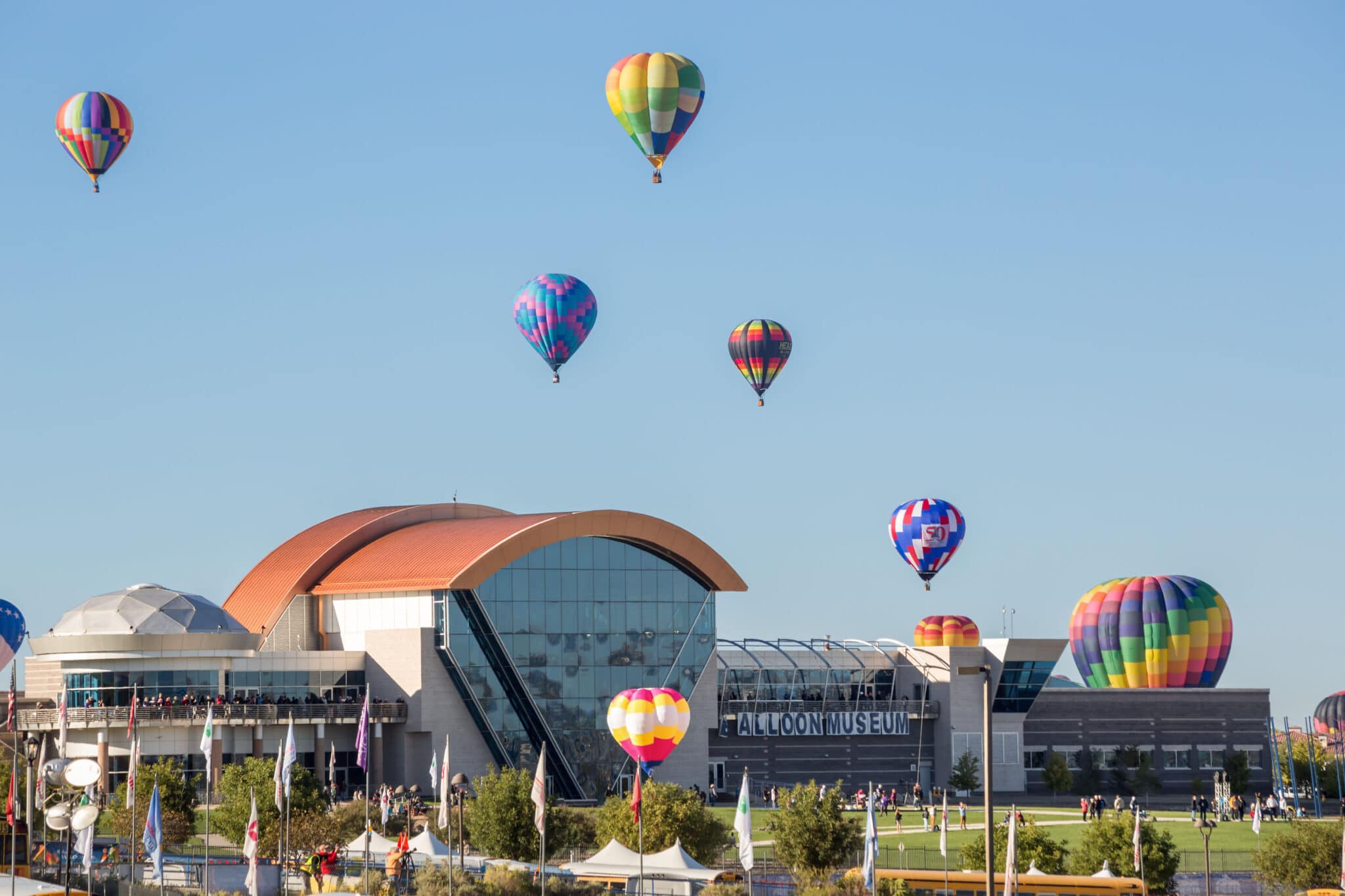 Albuquerque International Balloon Fiesta

– The Albuquerque International Balloon Fiesta is one of the largest balloon festivals in the world, hosted in Albuquerque New Mexico. For 9 days in October pilots and ballooning enthusiasts can participate and enjoy the spectacle of this amazing event. The Festival hosts over 800,000 guests and pilots from around the world.
Anderson-Abruzzo Albuquerque International Balloon Museum – In Albuquerque, you can visit the Balloon Museum next door to the Albuquerque International Balloon Fiesta. The Balloon Museum shares the history, art and science of balling aviation and is open year round.